NEWS&BLOG
Designer Interview【LARA KRUDE】
こんにちは。太田です。
今回はドイツからやってきた、今季からのお取り扱いブランド【LARA KRUDE】
前回バイヤーの古田が書いたBLOGも是非読んでみてください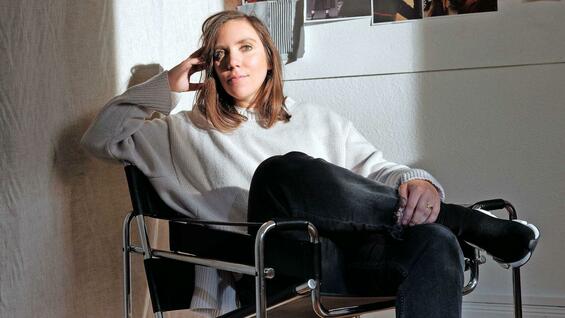 1. あなたの経歴について教えてください。
Could you please tell us about your background?
私は有名な仕立て屋の孫娘として生地や職人の技術、そして自分の手で何かを作り出すことに魅力を感じて育ちました。
学校を卒業後、ファッションデザインを学び、修士号を取得した数週間後ミラノに移った後にPorts 1961のメンズウェアチームで働きました。
イタリアでの数年間、伝統的な工場やサプライヤーと仕事をしたことは、私のデザインに大きな影響を与えました。
As the granddaughter of a bespoken tailor I grew up with a fascination for fabrics, craftsmanship and creating something with your own hands.After finishing school I studied fashion design. A few weeks after my master degree I moved to Milan to work in the Ports 1961 Menswear team.
The years in Italy and working with all the traditional mills and suppliers made a huge impact on my design.
2. 自分のブランドを始めたきっかけは何ですか?
What made you start your own brand?
2017年、私はまだミラノで働いている時に修士課程の卒業コレクションで、ステラ・マッカートニーの後援のもと「Designer for Tomorrow Award」を受賞しました。受賞後、ドイツの大手小売店のカプセルコレクションのデザインに招待されました。
このコレクションは大成功を収めましたが、私自身のデザイン、そして美学やシルエットに関する私自身の視点をドイツの女性たちに提供できたことは素晴らしいことでした。ブランドを立ち上げて、世界中の女性に向けてデザインを発信していくには、ちょうど良いタイミングだと思ったのです。
In 2017 I won the 'Designer for Tomorrow Award' under the patronage of Stella McCartney for my Master graduation collection while I was still working in Milan.
After the award I was invited to design a capsule collection for a big german retailer.
It was a huge success and it felt amazing to make my own designs and my own point of view regarding aesthetics and silhouettes available for women in Germany.
It was the right moment to start the brand and make the designs accessible for women worldwide.
3. デザインを考えるときに心掛けていることはありますか?
What is something that you keep in your mind when thinking about design?
新しいデザインに取り組む時、私はいつもその作品を身につけているときの気持ちを考えることから始めます。
生地の手触りはどうか、形をどう感じるか、何が自信と力を与えてくれるのか。
ゆったりとした形は、一日中自由に動き回れるようにしてくれますし、
使用している天然素材は、肌触りがよく、通気性に優れています。
デザインには、ヨーロッパと日本の小規模な工場のみを使用しており、
すべての製品はポーランドの家族経営の会社で作られています。
私達はスローファッションを信じており、クラフトマンシップや伝統的な技術、価値観を守り続けることを目指しています。
私たちのデザインは、あなたのワードローブを末永くサポートするために作られています。
When working on new designs I always start with the idea of how you are feeling while wearing the pieces.
How is the touch of fabrics, how do you feel in the shape, what gives you confidence and strength.
The loose shapes help moving freely the whole day while the natural fabrics that we are using feel so easy and breathable on the skin.
For our designs we are exclusively working with small mills in Europe and Japan and all pieces are made in family-run business in Poland.
We believe in slow fashion and our aim is to keep craftsmanship and traditional techniques and values alive.
Our designs are made to support your wardrobe for years to come.
4. あなたがインスピレーションを受けている女性は誰ですか?
Who are some of the women for whom you are inspired?
私の周りにいる沢山の女性たちに、心からインスピレーションを受けています。
自分の道を歩み、最高の人生を創造している女性は皆刺激を受けます。
また、新米ママとしてビジネスと家庭のバランスを毎日とっている女性たちにも感心しています。
I'm truly inspired by so many women around me.
All women who are following their own path and creating their personal best life are an inspiration.
And as a new mom I'm personally impressed by all women who are balancing business and family everyday.
LARA KRUDEの洋服は纏った女性が自信を持てるように
エレガンスな雰囲気の中にも強さや着心地、素材に拘りを感じられ、納得な品質。
取り扱いの決め手はお店のアイコンでもあるジョージア・オキーフが着ているイメージが浮かんだ事と
見て触って感じ取れる素材の良さだったそうです。
せっかく洋服を買うのであれば、どういう人がどういう想いで作っているのかを知りたいと常々思っていたので
今回デザイナーインタビューの記事を通して皆様の理解や興味が少し深まれば嬉しいなと思います。
LARA KRUDEの商品はオンラインにも上がっているので
そちらもチェックしてみて下さい。
MAIDENS SHOP WOMEN 太田
MAIDENS SHOP WOMEN
〒150-0001
東京都渋谷区神宮前2-20-9
TEL  03-5772-5088
MAIL  women@maiden.jp
WEB  http://shopwomen.maiden.jp/
INSTAGRAM  maidensshop_women
-CONTACT-
☎:03-5772-5088
✉:women@maiden.jp
-SISTER STORE BLOG-



2021/06/15